The term "metaverse" is currently gaining momentum. What exactly does that mean for the business world? Is this something that social media companies should be concerned about? How will the Metaverse change business?
According to Apple's CEO, the metaverse is on its way. "Life without AR will soon be unthinkable," he said. Companies must prepare themselves whether it's a short-term or long-term prediction.
The first step to preparing is to comprehend what the metaverse is. Metaverse is a broad term that refers to a collective transformation of the internet into a 3D virtual world. This would be a globally connected environment between many different sites. The immersive games you see today reflect what will be on these sites.
So, did Facebook/Meta invent the metaverse? No.
The concept of a connected 3D immersive world has existed for many years. In the metaverse, a number of online gaming businesses have taken a stake in the territory. However, their own applications are less interconnected.
One of the earliest representations of the metaverse was a short-lived program called Adobe Atmosphere. It connected online worlds in a 3D immersive experience. People were even able to chat with others. It was a little ahead of its time, but it demonstrates how the idea of the metaverse has been in play for some time now.
The reason the metaverse is now receiving more attention is because of the advancements in technology. For example, faster internet speeds and a lot of processing power.
Are we already there? Not exactly. But the metaverse is gaining momentum. Microsoft has disclosed a partnership with Meta. Microsoft 365 apps will enter the metaverse thanks to this agreement. According to Microsoft, 50% of Gen Z and millennials expect to do some of their work in the metaverse within the next two years.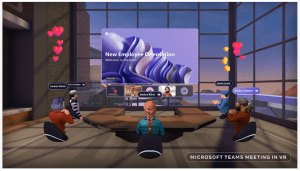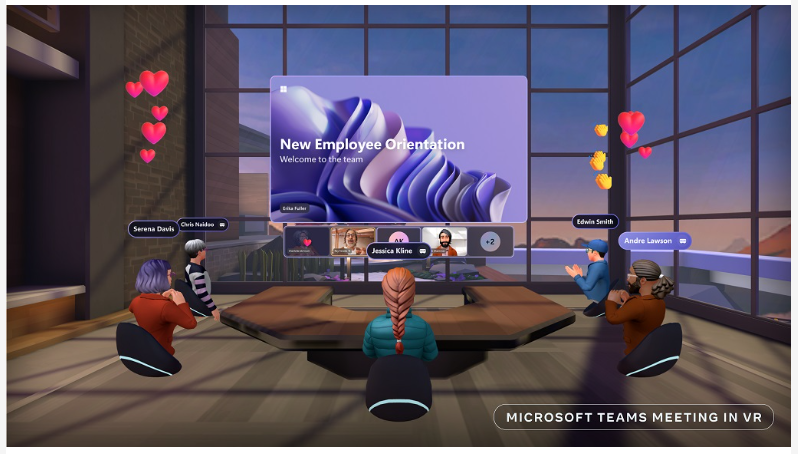 What Effect Will the Metaverse Have on Your Business?
With a productivity giant like Microsoft are investing in the future of AR/VR, you can expect the metaverse to impact your own business at some point. Here's a sneak peek at what it might affect.
Places to Advertise
When the internet first came about, businesses took a while to warm up to it. Nowadays, few businesses would even think about operating without a website. It's essential for generating leads and closing deals.
If the metaverse aims to be the new 3D version of the internet, it might be just as important. This will mean exploring metaverse-style marketing in the virtual environment. You might also have to create your own VR website or showroom.
New Customer Service Techniques
As the popularity of social media grew, companies became aware that customers use it as a communication tool. 79% of consumers expect businesses to reply to social media messages. And they expect a response within a day.
Several companies address this by establishing a social media presence. They use it for marketing and to respond to client inquiries and questions.
The next step in all this might be the metaverse. People will eventually expect to interact with companies through there, similar to how they now use social networks.
As the metaverse expands, businesses will have to be mindful of potential clients use it. Including asking about the metaverse in a year-end customer survey to address the topic.
Employee Training
One of the expected benefits of the metaverse is the ability to offer immersive training. The capacity for training can range from doctors to forklift operators.
Imagine being able to perform a task in a virtual environment more accurately. There would be no danger of making a mistake. Hence, becoming proficient in that task before performing that task in real life.
Start thinking about the type of training your staff would most benefit from. Then consider how a virtual environment might make that training safer or more effective. You might not find it in the metaverse right now. But given how quickly technology is developing, it might happen in a year or two.
Immersive Remote Team Collaboration
Thanks to the pandemic, the need for virtual meetings has increased dramatically. I'm sure you've noticed how frequently you meet through Teams or Zoom. It's possible that the next iteration of online team meetings takes place in a virtual environment.
As we mentioned earlier, Microsoft is already working on integrating its apps into a virtual environment. Adding an immersive space and a few avatars and suddenly you have an entirely new kind of meeting.
What other ways can the metaverse improve remote team collaboration? It has to do with the upkeep and design. Imagine being able to explore a 3D representation of a location before it's ever constructed. Then being able to make adjustments inside the space.
Is Your Business Ready for the Next Digital Revolution?
What digital transformation plans do you have for the upcoming year? Three years from now? If you're unsure about where to start, we can help. To arrange a technology brainstorming session, get in touch with us today.
---
If you'd like to learn more about what's new in the tech world, follow our blog!
Click here to schedule a free 15-minute meeting with Stan Kats, our Founder, and Chief Technologist. 
STG IT Consulting Group proudly provides IT Services in Greater Los Angeles and the surrounding areas for all your IT needs.