The most popular office productivity software is Microsoft 355. With 48.8% of the global market, it barely beats out Google's apps. Let us give you some expert tips for Microsoft 365 users, so you can get the most of your productivity suite.
Microsoft 365 users range from individuals, small & mid-size businesses, to the largest corporate enterprises. It has a function for everything a modern office requires. From spreadsheet work and word processing, to cloud storage and video conferencing.
With over 20 apps in all, Microsoft 365 is a huge platform, making it easy to overlook important features. People frequently stick with what they know.  However, this means customers often miss out on M365's time and money saving features.
Depending on your membership level, you may receive a variety of apps, including:
Excel
Word
Powerpoint
Outlook
To Do
OneDrive
Teams
Forms
Defender
SharePoint
Yammer
Lists
Access
Bookings
Intune
Planner
Visio
And more
Want to maximize the benefits of your subscription? We'll go through some of the most beneficial Microsoft 365 apps and features that you might already be aware of.
Get More from M365 Using These Expert Tips 
1. Use "Search to Find" Function 
We all do it at some point. You know there is a way to do something in an app, but you can't find it in the menu bar. For example, changing the margins in Microsoft Word to increase the available space on the page.
Stop wasting time searching for something by using the search box at the top. You can use this feature for more than just finding help topics. Use the search to quickly get to settings like margins, page orientation, and many more.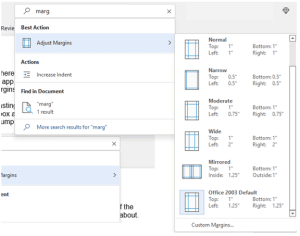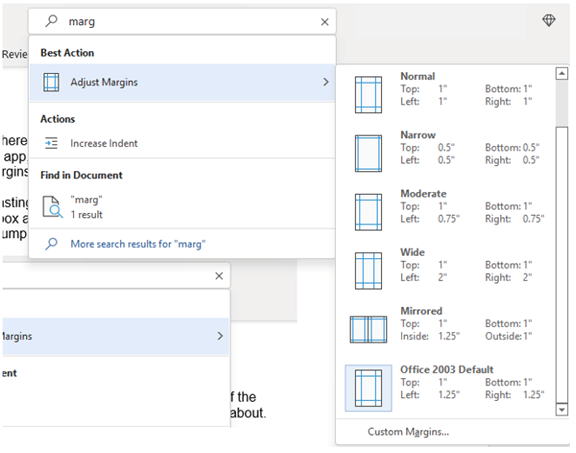 2. Utilize the Free Stock Images, Icons, and Videos
The majority of businesses need to have decent-looking visuals. To use on the website, brochures and presentations. Unfortunately, it can be expensive to find quality commercial imagery.
You can't just use images on Google because odds are, they may be copyrighted. For commercial purposes, you need images that you can use freely without issues.
There are countless graphics inside Word, Excel, and PowerPoint. You can use these for free in your marketing. Plus, there are videos, icons, and even 3D models available for you to choose from.
Find them by going Insert > Photos > Stock Images
Switch between different media by using the tab at the top. After that, click to add it directly to your document, spreadsheet or presentation.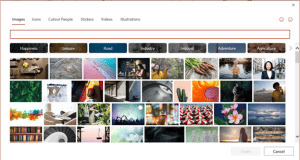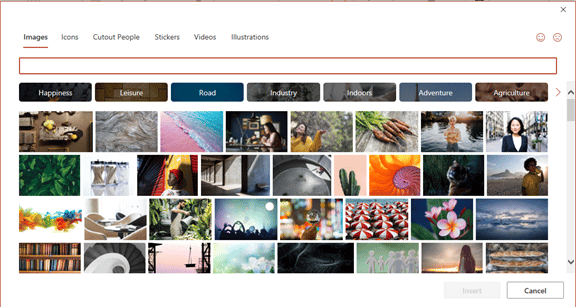 3. Use Excel's Data Types to Save Time
It can take days to conduct research on topics like a city's population or a new menu's nutritional value. Did you know that Excel has a number of databases you can access?
Feel free to leverage the facts and figures found in Excels "data types." They cover a wide range of subjects, from chemistry to yoga positions. Use data types to quickly populate tons of data for a variety of topics.
Add your list first (e.g., a list of menu items)
Highlight your list.
Click the Data tab after that.
Select the type of data it is in the Data Types pane (e.g., Food, Plant, etc.).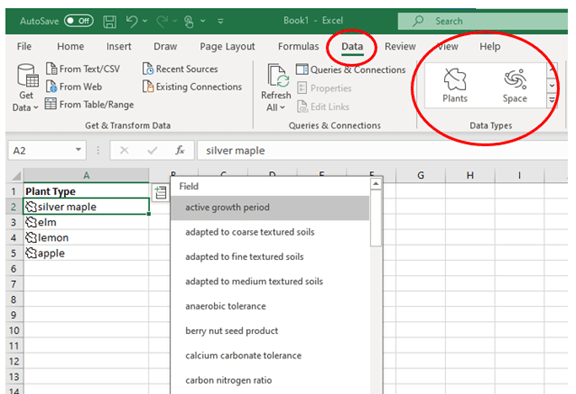 Next click the little database icon that appears at the top of the list
Select the data type you want
Each list item's details will fill in in the following open column to the right.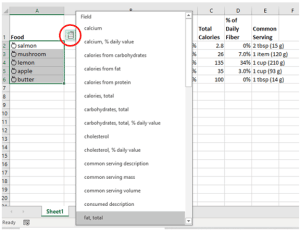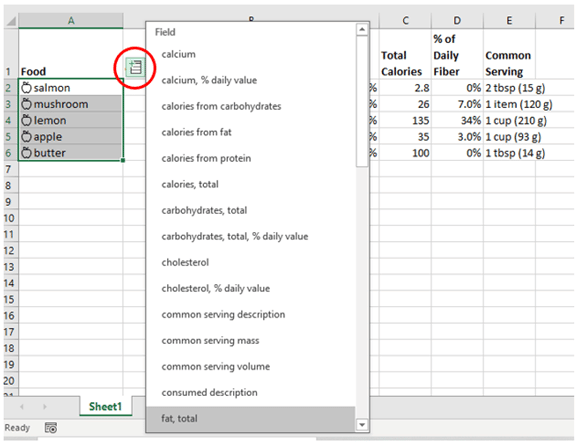 4. Use Microsoft Forms to Save Time on Customer Surveys.
One of the best-kept M365 secrets is Microsoft Forms. Sending out surveys to people is straightforward with this cloud-based survey and form generator. As soon as they hit "submit" on the cloud-based form, you get the results back.
Even better, you may download the outcomes straight to Excel. Graphing with them or inserting them into a software template
5. Use Presenter Coach in PowerPoint to Improve Your Skills
When it's time to present to clients or your own team, do you get nervous? Even in a virtual setting, not everyone enjoys speaking in front of an audience.
PowerPoint can be a helpful tool to you with its AI-powered feature called Presenter Coach. When practicing your presentation, turn on the coach feature. You'll get real time advice on how to pace yourself, use of filler words like "uh," repetitive language and more.
Look for the "Rehearse with Coach" option on the Slide Show menu.
6. Save Repeating Email Text in Quick Parts of Outlook
Do you ever send customers emails and include the same paragraph or text in each? For instance, you might provide directions to you building or how to contact support.
It can be annoying to type out the same information every time you send that kind of email. With Outlook, you can save and insert blocks of text using the Quick Parts Feature.
To save the text in an email, highlight it and create Quick Part
Select Quick Parts by clicking the Insert Menu.
Save Quick Part
When you want to add the text in another email, just use the same Insert Menu and select Quick Parts.


7. Design a Keyboard Shortcut to Past as Unformatted Text
Keyboard shortcuts are awesome for saving time. However, they might not have one available for every specific need. The Paste shortcut is a practical shortcut in Microsoft Word. To prevent formatting from messing up your documents, designing this shortcut to suit your needs will remove any formatting that copied text might have.
Here's how to make your shortcut for this function:
Click File > Options in Word.
Click Customize Ribbon.
Click Customize next to Keyboard shortcuts at the bottom of the screen.
Scroll to All Commands in the left pane.
Find "PasteTextOnly"
Enter the keyboard shortcut, then select Assign.
Need Help with Microsoft 365 Optimization?
Numerous security-enhancing, time- and money-saving features are available in Microsoft 365. Schedule a consultation right away to find out how else we can help.
---
If you'd like to find out more about what's new in the tech world, make sure to follow our blog!
Click here to schedule a free 15-minute meeting with Stan Kats, our Founder, and Chief Technologist. 
STG IT Consulting Group proudly provides IT Service in Greater Los Angeles and the surrounding areas for all of your IT needs.