Don't you hate it when your phone breaks? It can feel like such an inconvenience especially with a limited amount of options to fix it... but maybe not for long. Let's talk about an announcement that Apple is now selling parts to fix your own iPhone. 
---
We've all been down this road before. When you break your phone, your expectations are either pay a premium for your provider to fit it, trust a mall kiosk with questionable parts, or you give up and just buy a new phone.
Either way, these options can be expensive and sometimes risky. Phone companies want you to bring broken devices back to them, so they've made it very hard for outside resources to purchase parts.
For years, this method of fixing your phone has felt unfair. These providers have held a choke hold on the repair service industry. 
But, not for long
Apple's Big Announcement 
Apple has officially opened a self-service repair shop. The shop will offer iPhone users access to manuals and components for a do-it-yourself iPhone fix.
The shop is an online store, offering more than 200 individual parts and tools, including iPhone screws, cameras, batteries, screens, SIM card trays, and more.
For the first time, Apple users are able to shop for parts. It is giving consumers and third-party fix-it firms access to authentic Apple components.
So no more having to rely on the company's in-house repair service or those counterfeit parts from repair kiosks.
What Parts Are Available Right Now?
As more parts begin to roll out, you'll notice this first batch is limited to iPhone 12, iPhone 13, and iPhone SE (3rd generation) components.
So far, the store is only available to users in the United States, but Apple has plans to expand into other countries this year starting with the United Kingdom.
We should expect more manuals, parts and even Mac computer tools to come out by the end of the year. 
The Reason Apple Started Selling Parts
The launch of the Apple repair store follows up a campaign advocating for the "right to repair." This campaign urged lawmakers and tech companies to allow consumers the ability to repair their own devices.
President Joe Biden signed an executive order last July asking the Federal Trade Commission to develop guidelines mandating businesses to allow customers repairs. 
It was the FTC who agreed unanimously against repair restrictions. 
Lack of autonomy when it comes to fixing our devices makes it significantly more expensive, hinders innovation, blocks economic opportunities, produces unnecessary electronic waste, delays repair time, and degrades resiliency.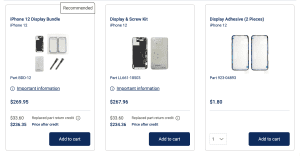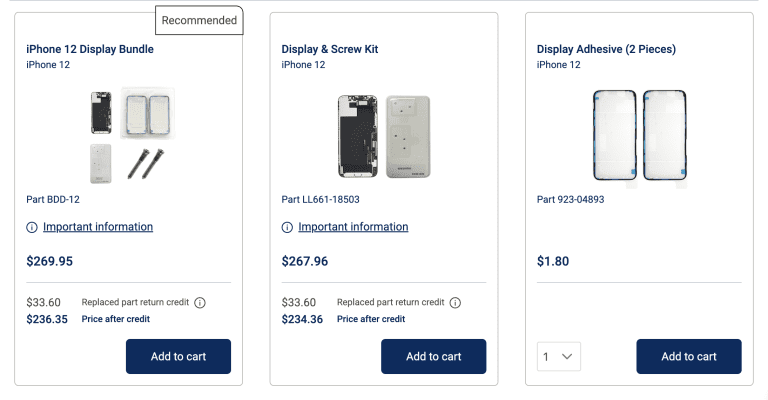 Cost of Parts
Apple is pricing the publicly available parts at the same price existing authorized repair retailers pay. The prices vary from a $0.20 screw to a $312 iPhone 12 Pro Max screen kit.
Customers not willing to buy tools to for a single repair will be able to rent them for $49. Allowing them temporary access to expert repair gear. Customers will receive free shipping on the week-long rentals.
Plus if you return components for recycling, you will receive store credit.
Is Apple Setting a Precedent?
Apple may have started the process, but other device makers are following suit.
Samsung unveiled a similar service soon after Apple. If you own a Galaxy, you will have access to a few repair components starting this summer. 
Over the years, Apple and Samsung received plenty of criticism for limiting independent repair shops from getting into their devices. 
Both companies implemented non-removable memory, batteries and sealed their devices with a special glue. 
An argument can be made that these regulations ensure buyers on the quality of the devices. That they are handled properly and only repaired through authorized repair shops.
Always Seek Professional Help When Needed
Keep in mind, although Apple is now selling parts to fix your own iPhone, they advise seeking professional help for completing repairs.
Apple came out with a statement saying the safest and most reliable approach to receive a repair for the vast majority of customers who do not have expertise fixing electrical devices is to contact a professional repair service with qualified technicians who use authentic Apple components. 
Check out last weeks YouTube video "STOP Using Email as a Personal Storage Solution."
---
Would you attempt fixing your own phone? Would you take it to a professional? Let us know in the comments!
If you don't trust yourself to make these repairs and prefer to let a tech specialist in your area fix it for you, feel free to schedule a call with me via the Calendly link below. 
Click here to schedule a free 15-minute meeting with Stan Kats, our Founder and Chief Technologist.
STG IT Consulting Group proudly provides IT Service for Small to Medium Businesses in Greater Los Angeles. We'd love to see if we can help you too!