In our world, there are many corrupt and crafty internet criminals out there. I'm sure you have have seen many email phishing attempts over the last few years.
However, the current COVID-19 pandemic seems to have exacerbated these online scam artists.
In this article, we're going to point out some of the most common online scams that are currently occurring and what to keep a lookout for:
1)  The Zoom Meeting Request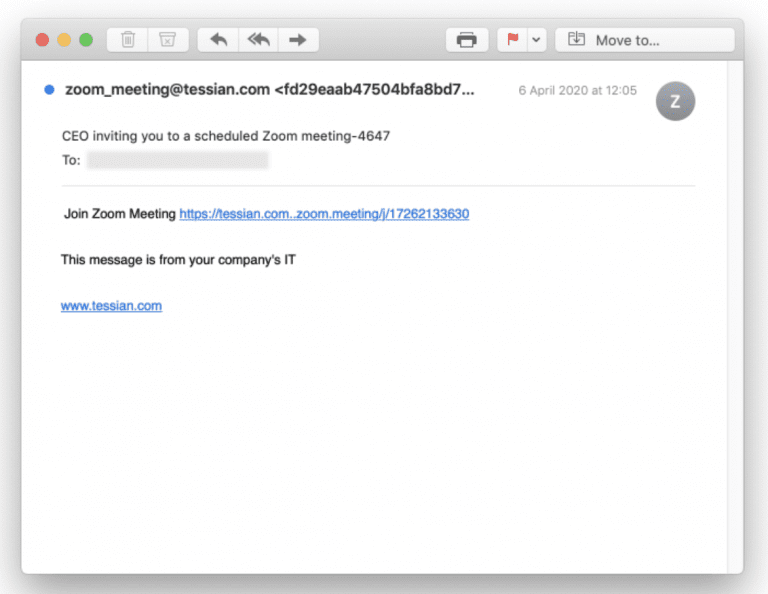 Although Zoom has had a lot of bad press this year, scam artists are now exploiting its acclaim with "meeting requests."  Check out our example above – this almost looks like a legitimate meeting invitation; however, with some careful analysis, it is evident the email address, and text looks off.
The URL mentioned in the email takes you to a phishing website.
2) Work from Home / Remote Support Appeal
With a good amount of our workforce now at home, a remote support request from your IT department or provider may look genuine. This online scam is just playing on the current circumstances we find ourselves in.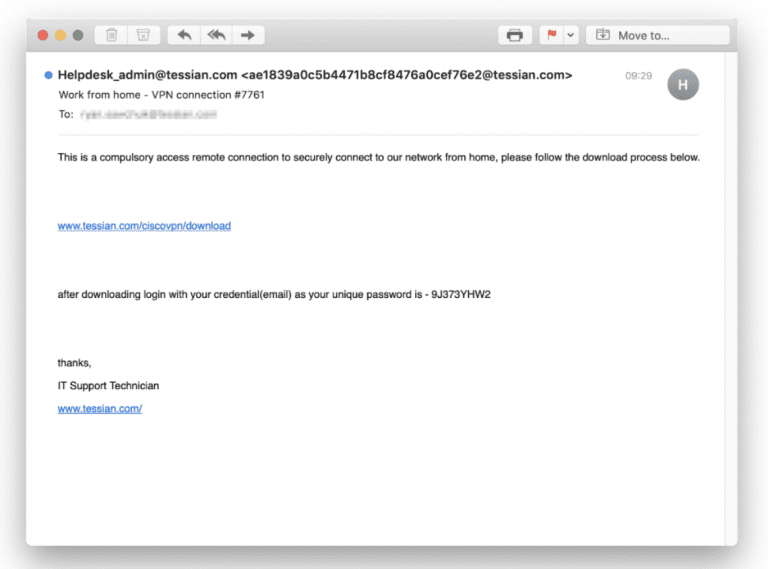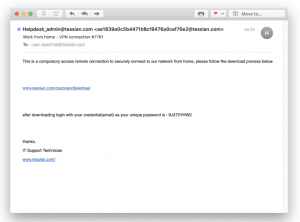 Note the 'red flags' in the email example above:
The display name and email address are not consistent.
Sender's email address is a spoof of the real domain.
Email construction with incomplete grammar and the impersonal tone makes it clear that this is not a legitimate request.
Commonly, the receiver is encouraged to click a link, which looks harmless at first. But, upon hovering over the link itself, it reveals itself to be a suspicious and potentially harmful page.
3) Click Here for a Cure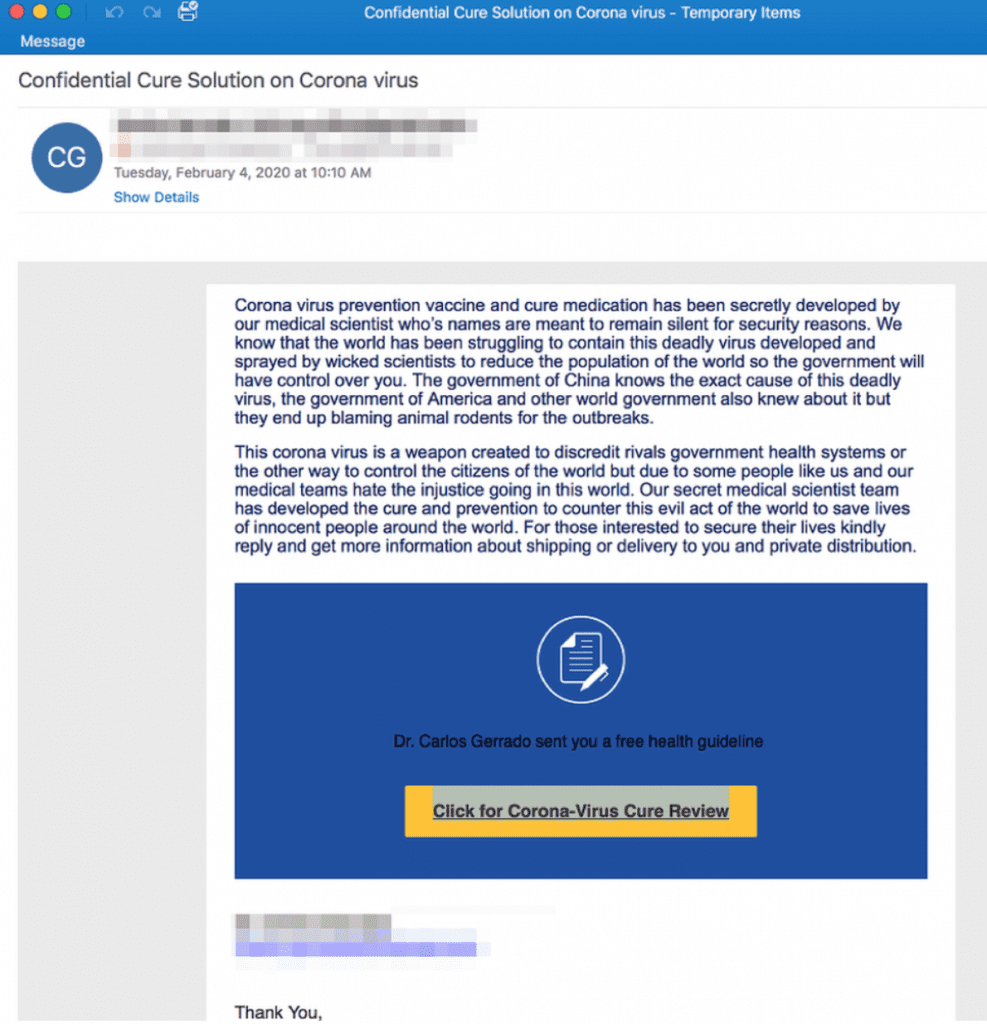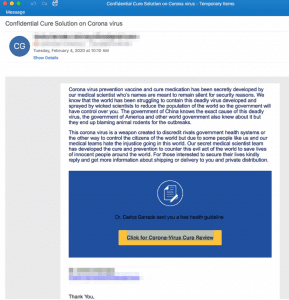 A cybersecurity analysis company first noticed a strange email being sent to customers earlier this year (in February). The message came from a self-proclaimed doctor who believed he had information about a potential vaccine to COVID covered up by government authorities.
The company further notes that people who click on the file got taken to a fake webpage created to capture login information.  What we can learn from this is that it is imperative to hover your cursor over any link to uncover the real web address. If it looks suspicious or harmful, do not click – always better safe than sorry.
4) Fake Online Ads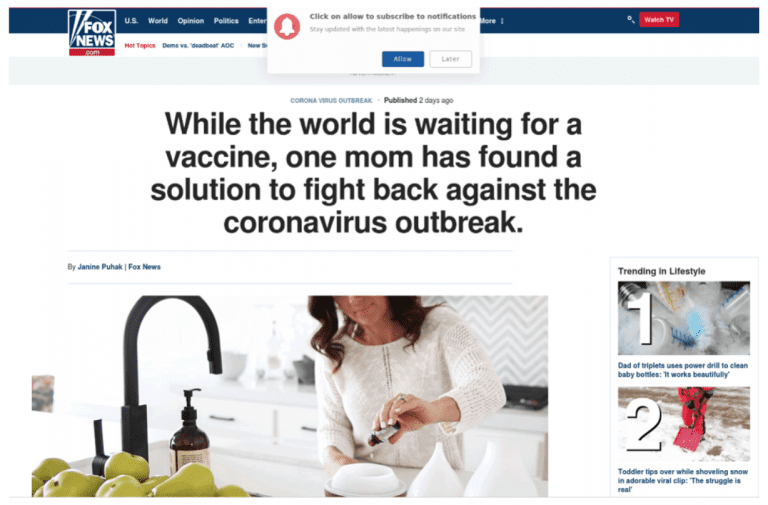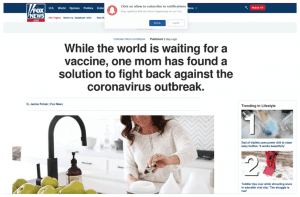 Scam artists have developed fake ads that offer cures for COVID-19. These ads commonly attempt to inhibit a sense of urgency. One common example would be an ad that states, "Buy now, limited time only."
There are two possible adverse outcomes from responding to these fake ads:
Clicking on one of these ads could potentially download malware onto your specific device.
You could buy the product and receive an item deemed useless. Furthermore, you may not receive anything at all while having shared crucial personal information.
Word to the wise: Avoid ads attempting to capitalize on COVID-19. While we've given you a couple of examples, there are many more out there, so always stay alert.
To stay protected, learn more about what to watch out for, and how we can help from a tech standpoint, reach out to us at STGInfoTech.com! We ARE open for business/appointments during COVID-19 and service West Hollywood as well as greater Los Angeles and Orange County! Please check out our website for up to date information or give us a call at (323) 761-2634.